We recently wrote a blog article about San Diego Comic Con in which we described the things that you may need when preparing for a convention.
One thing that is often overlooked when getting ready for a convention or trade show that you need to travel to is how to organize last minute printed materials for the show.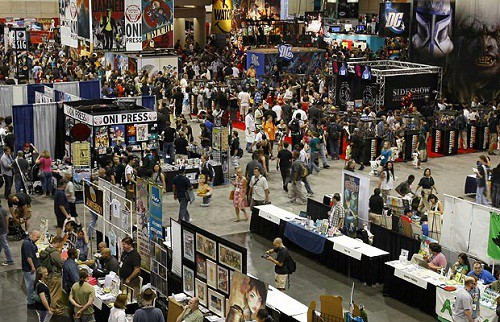 A bird's-eye view of all of the booth displays at San Diego Comic Con
Should you print everything first locally, and then bring it with you?
Or, do you find a print shop locally and organize your printing ahead of time so it will be there when you arrive?
We feel the latter is the way to go. There are several reasons that factor into why this is a better option, but the main reason is the lack of reliability on the airliner's behalf when it comes to handling your luggage.
Imagine having everything printed and ready to go for your booth at a convention, only to find out that the luggage containing everything you've printed got lost or damaged in transit. It hurts to even think about.
Another thing many people do is have everything printed locally, and then ship the goods to their destination.
There are several concerns with this option:
For starters, it shortens the amount of time you have to plan for your convention because you have to account for the time it takes to ship the goods to yourself.
Secondly, in addition to the cost of printing, you now have to pay for the associated shipping costs as well.
Third, if you do need last minute changes (which is very common, as convention scheduling, attendance and placement changes all the time), you will be unable to account for these changes, as everything has already been printed and shipped. Locally, we can make adjustments as needed all the way up to one or two days before the event.
This is why we suggest finding a local digital printer, like ourselves, in the convention destination city. With Digital Print, we are able to get things printed in a short amount of time to meet your deadline. Also, we, specifically, are open 7 days a week.
For example, Replica Printing Services is located in San Diego, which just so happened to move up to #4 on the top 10 convention cities in the United States, surpassing Atlanta.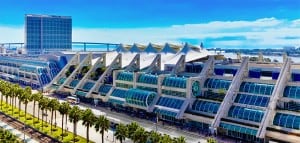 San Diego Convention Center
We recently had a call from a gentleman in Belfast, Ireland who was traveling to the San Diego Convention Center for a show. He sent us all of the files, some of which needed some editing to be done on our end. With the adjustments made and some back and forth communication, we were able to get everything approved and printed on time. We  delivered the day of the show to the Convention Center where he met us curbside. It was a relief for all as he did not have to worry about the travel aspect when it came to his printed goods.
Deadlines leave very little room for error. Why risk losing all of the time and expenses that you've invested into your trade show, only to potentially have items arrive late, damaged or not arrive at all.
When traveling for conventions, we suggest that you do your homework on local printers in your destination. Check Yelp, Google and BBB Reiviews for verification.
If you plan to travel to San Diego for your trade show or convention, get ahead of the game and give us a call and we'd be happy to do our best to help you with your last minute needs!