Most commonly finished as 5.5×8.5 or 8.5×11 sizes.  However we can customize booklets & books to fit your specifications.  Saddle Stitching is the common term for folding and stapling twice along the spine for a magazine like appearance.  This finish provides an inexpensive and efficient method for business materials to be printed in Color or Black & White and easily viewed as a book.  Perfect Binding offers a textbook appearance with a glued spine and cut edges for a clean professional appearance.  Both options are typically printed with a heavier card stock cover and gloss or matte text pages.
Booklet Making (Saddle-Stitching)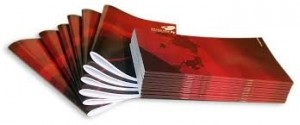 Lays flat when opened
Inexpensive alternative for under 60 pages
Great for newsletters or small reports
New Square Fold Spine with face trimming, less expensive alternative to perfect binding.
Perfect Binding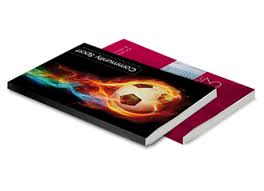 Lays flat when opened
Glued Spine for clean professional finish, great for shipping (Lay flat)
Can Bind small or large books with no quantity minimum
Great for textbooks, product manuals and large reports
Can Print on Spine