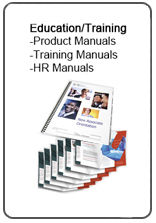 Replica's customized digital printing, binding and quick turnaround is the perfect fit for the Education & Training industry. Educators, training departments and consultants; we specialize in producing materials for any size training.  These materials include:
– Training Manuals/Binders
– Product Manuals
– Booklets
– Bound Proposals & Custom Index Tabs
– CD/DVD Inserts
– Note Pads
– Table Tents, Flip Charts and more!