We recently wrote an article about Oversize Scanning that explained how it's done and why it's important. This time, we want to walk you through the opposite process of oversize printing.
Here at Replica Printing, We also specialize in oversize drawings and reprographics. Whether it's Color Renderings, Color Line Drawings or  Black & White prints on mylar, we can do it all.
This particular segment will cover the service of oversize reprographic plan printing.
We use the latest Wide Format Print Technology from HP & Océ to produce high quality prints or copies.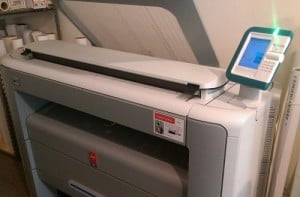 While you may assume that most oversize print jobs are large, colorful posters and banners (which we will cover next), many of the jobs we receive here are for reprographic plans for architecture.
Pictured above is the HP Designjet T1500 (left) which is used mostly for high-quality color maps, line drawings or renderings. Also pictured above (right) is the Océ PlotWave 350 which is used for fast printing of black and white reprographic plans as well as oversize scanning.
You may remember our  Océ PlotWave 350 that we  use to scan oversize prints. Well, the same machine is used to print them as well. Watch the videos below to see it printing out some repographic plans.