Sustainable Printing: What does FSC and SFI Certified Mean?
Have you ever noticed the labels with the little trees and acronyms on the wood or paper products you buy? Probably not, unless you are looking for them.
These labels are helpful for environmentally conscious consumers to understand where their products are coming from. That can take some research on their part, but we are here to help.
On most forest products, like lumber or paper, there will be either an FSC or SFI label. All this means is that the product is certified to be sourced from sustainably managed forests. The FSC and SFI are international nonprofit organizations that establish strict standards for sustainable forest management and certify suppliers are meeting those standards. Each organization is a little different, so we'll break it down for you here:
Forest Stewardship Council (FSC)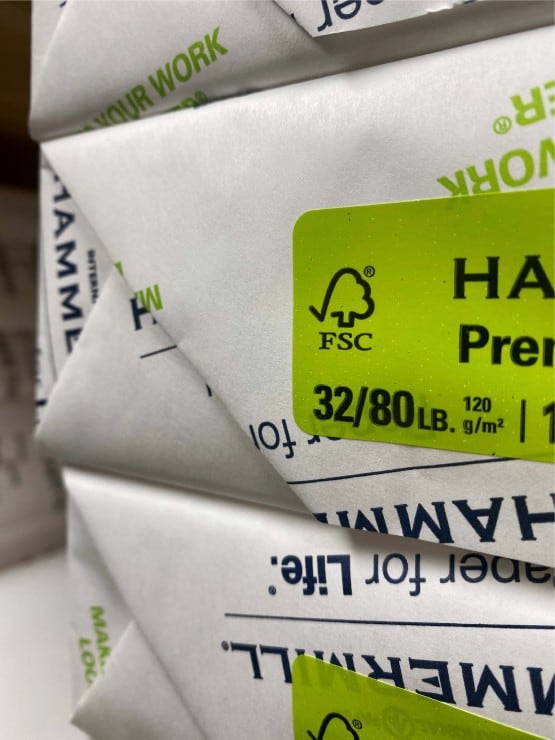 The Forest Stewardship Council (FSc) was established in 1993 to promote sustainable forest management around the world. FSC has certified over 400 million acres of forest and issued over 40,000 certificates to forest owners, managers, and manufacturers.
The FSC issues two main certifications: Forest Management (FM) and Chain of Custody (CoC). The FM certification process involves forest owners or managers voluntarily opening up their operations for inspection by independent certifiers to ensure that forest management practices meet FSC guidelines. CoC certifications allow manufacturers and traders to demonstrate their forest product is sourced from forests that are sustainably managed according to FSC standards. It is a system that tracks the flow of FSC certified goods through the supply chain and across borders through the processing, transformation, and manufacturing stages of production.
For a company to use the FSC trademarks and labels on its products, it must have one of these certifications.
Sustainable Forest Initiative (SFI)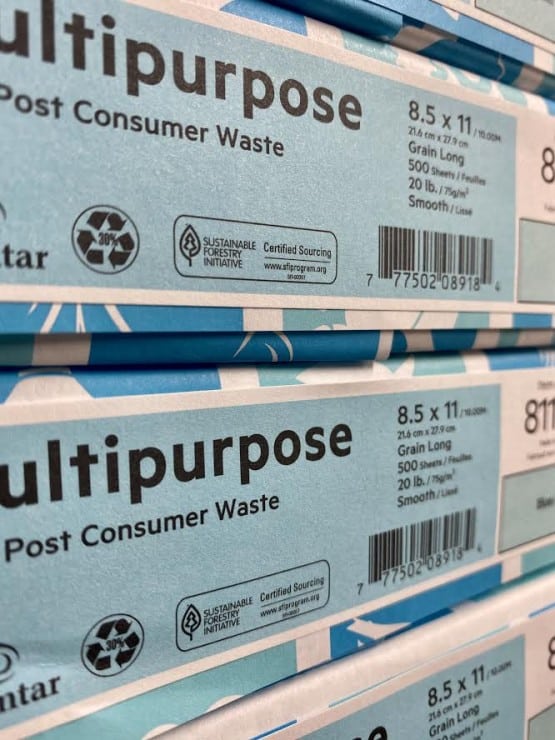 The Sustainable Forestry Initiative is the North American forest certifying body. It is the world's largest forest certification standard by area. SFI certifies over 360 million acres of forests across the U.S. and Canada.
SFI, like FSC, has two primary certification standards.
The SFI Forest Management Standard maintains strict conditions for forests to be certified sustainable. At the center of these standards are commitments to protect biodiversity, at-risk species, and wildlife along with promoting sustainable harvest levels and protect water quality.
The SFI Fiber Sourcing Standard is what sets SFI apart from other forestry certification programs, and is especially important in the print and paper industries. It sets mandatory practice requirements for the responsible procurement of all the wood fiber a company uses, even if it is not sourced from certified lands. The goal of these standards is that they will facilitate the spread of responsible forestry practices.
Next time you're out shopping for furniture, paper, or other forest products, keep an eye out for the FSC and SFI labels. Here at Replica Printing, we do! All the paper we use is FSC and SFI certified, and that is just one way we do our part for the environment. To read more about the measures we've taken to be more sustainable, check out this other blog post. [4 Steps We've Taken Towards Sustainability]