Planning A Trade Show In The Pandemic
Trade shows provide an excellent opportunity for you to share and market your products and services. Planning a trade show requires multiple components that come together to create a successful event.
Planning
Attending a trade show requires much more than just planning for your budget and travel accommodations. A compelling exhibit includes designing and ordering signage, banners, marketing materials, and more. Most companies suggest starting planning as far out as 9-12 months before the trade show.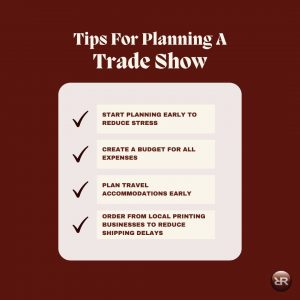 Working Through Shipping Discrepancies
While we are transitioning to a post-pandemic lifestyle, the supply chain issues that emerged during the pandemic are still present. With supply shortages, delivery delays, and a rise in prices, purchasing trade show materials can create obstacles during the planning process.
To combat possible shipping delays, you can work with local printing businesses near the trade show location. Having your trade show materials printed in the same city as your event ensures that your materials are present for the event. Rather than traveling with your trade show materials, working with printing companies that provide delivery services can decrease unnecessary shipping costs. By printing locally, you can avoid possible shipping discrepancies and decrease your expenses.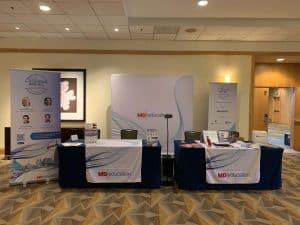 MD Education is a medical education company from the U.K. that recently attended a trade show in San Diego, California. Replica Printing was happy to print and deliver their materials to their trade show.
With these tips, you can plan early and print locally to be prepared for your next trade show. Are you planning to attend a trade show in San Diego, California? Contact Replica Printing Services today to order quality trade show materials for your next event!