What is Every Door Direct Mail (EDDM)?
Every Door Direct Mail (EDDM) is an affordable targeted advertising technique that lets you map your marketing mail audience by age, income, or household size. This service, through USPS, allows companies to easily and inexpensively send a marketing message to entire neighborhoods or geographic areas. Studies have shown that 76% of consumers trust direct mail when making purchase decisions and, for ever $167 marketers in the U.S. spend on direct mail campaigns they sell $2,095 in goods.
Direct mail is a powerful tool to get your message into the hands of consumers. Here are the top 3 things to consider when planning your campaign.
Top 3 Things to Keep in Mind When Creating Your Mailer
1. Design
To keep or not to keep? That is the question people ask themselves when going through their mail, and more often than not the eye-catching postcard ends up on the top of the stack. That is why your creative design matters.
The images you choose are vital, as they convey your message before anyone reads what you have to say. The wrong images have a significant impact on response. Luckily, there is a lot of research out there about the impact design can have on direct mail response rates. In fact, according to the Direct Marketing Association, postcards outperform all other mail sizes with a 12% response rate.
Ultimately, your design goal is to create curiosity about your mail piece and do something different. You may be surprised by your results when you change things up.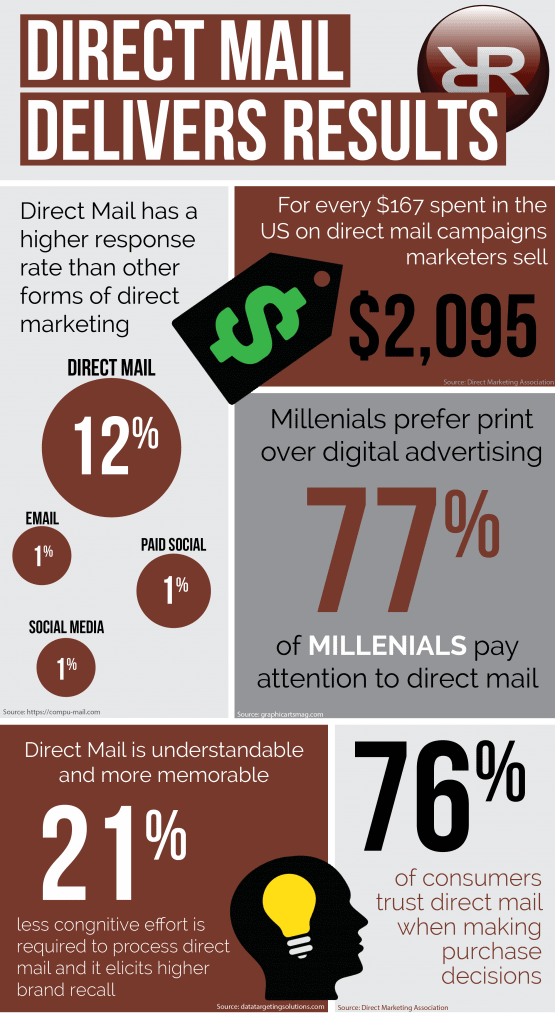 2. Audience
Who you are mailing to matters. Through EDDM you don't need a mailing list, but you do need an idea of where your target audience is located. Once you have narrowed down where you want to send your mailer, you are ready to focus on other parts of your data. Tracking purchase history, demographics, and geography can help you choose the best routes you want your message to be delivered on. The more information you can collect and process to refine your target audience for each mailing, the better your response rate is going to be.
For example, we recently completed a mail campaign targeting businesses near our facility. Through EDDM we were able to see the number of residential and business locations on the routes we had chosen. Since our target audience was business locations, we chose routes that contained mostly businesses.
3. Call to Action
The ultimate goal of direct mail marketing is to encourage recipients to interact with your brand, product, service or company. An effective way to do this is by highlighting a strong Call to Action on your mail piece. CTAs can vary in complexity and form. From coupons and discounts to a simple statement, Calls to Action are essential. If your CTA does not resonate with your prospects and customers, they will not buy from you.
Start by looking at the wording. Is it too long or confusing? Did you provide a good incentive? Is the CTA easy to find on the mail piece? You want your call to action to be simple, concise and relevant to each person. Once again, test different versions to find the one that works the best.
Direct mail is a powerful tool that marketers use to accomplish a variety of marketing goals. Luckily, you don't have to be a marketing guru to organize and implement your own direct mail campaign. EDDM makes it easy to reach a carefully selected audience and is an affordable option to get your message into the hands of customers.
See how Replica Printing Services can help you get started using direct mail. Visit our website to find more information or request a quote.